The character played by Leiana Y. in Detention Club. Also known as  A.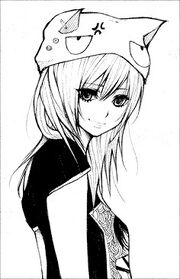 Angie, or A, as she likes to be called, is a rambunctious teenager that does as she pleases when she pleases. She doesn't have many friends due to her intense perspective on life and dangerous behavior. She dislikes everyone but has a special place in her heart for hating do-gooders and those high in the social hierarchy. 
She likes being mysterious, and is known for often skipping class. She goes by A likely because she wants to be as cryptic as possible.
General Facts-
Name in Film: Angie (A)
Relations in Film: None
Age in Film: 16 (Softmore in High School)
Status at End: Still bitter
Trivia-
Leiana was allowed to keep the shirt worn for this role.
The infamous line Maybe you should learn to keep your legs shut. was improvised.
Ad blocker interference detected!
Wikia is a free-to-use site that makes money from advertising. We have a modified experience for viewers using ad blockers

Wikia is not accessible if you've made further modifications. Remove the custom ad blocker rule(s) and the page will load as expected.