A character portrayed by Grace E. in Detention Club. Later revealed to be a teenaged Bindy, before she took on her infamous nickname.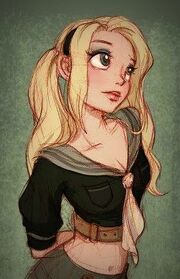 Personality-
A self absorbed snob, Michelle is sent to detention after she was caught having sex in an empty classroom with an unknown person. She spends much of her time bad mouthing others and talking on the phone. She loves fashion and having sex, and considers them her favorite hobbies. She dresses scantily, and always has sunglasses on, even when indoors.
She expresses an instant dislike of everyone else in detention, especially Angie. She is later attacked by a chair.
General Facts-
Name in Film: Michelle
Relations in Film: None
Age in Film: 16 (Juinor in High School)
Status at End: Knocked out
Trivia-
This is the youngest age at which Bindy appears in the timeline. 
Many of her personality traits come to surface in later films, such as her love of fashion landing her a job as an intern at a fashion studio, and her directness when dealing with others.
The shirt she wears in this film is later worn by her as an 87 year old, on the date of her death.